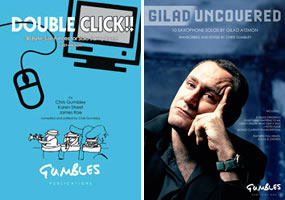 Check out - Gumbles Publications!
http://www.gumblespublications.co.uk/
Welcome to Gumbles Publications! SAX SOLO STUDIES, SAX QUARTETS/QUINTETS, SAX CHOIRS, PIANO MUSIC AND TRANSCRIPTIONS by Chris Gumbley, Karen Street, Gilad Atzmon, James Rae & Lennon/McCartney.
Here you can buy and listen to music for clarinet, sax and piano via Paypal or downloadable order form via our CATALOGUE page.