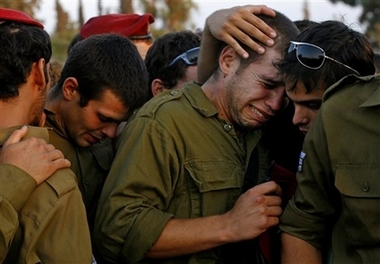 Reported by Gilad Atzmon

"Victory has a thousand fathers, but defeat is an orphan."
John F. Kennedy
No one in Israel is willing to take responsibility for IDF's recent military blunder in Gaza. Israel was caught unprepared for a war and its elite ground forces were minced by highly motivated and well prepared Hamas combatants. In the last few days, IDF and the Shin Bet (Israel's Security Agency) openly blamed each other for the fiasco.
Ynet reports today:
According to a report by Israel's Channel 2 television, Shin Bet officials claimed that they had raised concerns with the political echelons as far back as January, regarding early signs attesting to Hamas preparations for a conflict with Israel. IDF chief Benny Gantz reacted furiously to the report, writing to Prime Minister Benjamin Netanyahu that the Shin Bet officials who had made the claims had "breached every moral and ethical standard."

The Shin Bet officials said that their reports had piled up, ignored. In April, Shin Bet claimed that its Chief, Yoram Cohen, presented Jerusalem with warnings of a wide-ranging strategic terror attack Hamas was planning to execute within the next few months, sending its militants through a tunnel from Gaza into the Israeli border community of Kerem Shalom…
But IDF sources claimed no warning of a potential conflict had been received from Shin Bet, either in the winter or spring of 2014. Defense officials said the clash erupted between Cohen and Military Intelligence director Aviv Kochavi during a cabinet meeting at the close of Operation Protective Edge in late August.
On Wednesday afternoon Prime Minister Netanyahu hosted Gantts and Cohen in his office. Netanyahu instructed the two men to refrain from publicly debating matters that should be resolved between security forces.