Chema Garcia Martinez - Madrid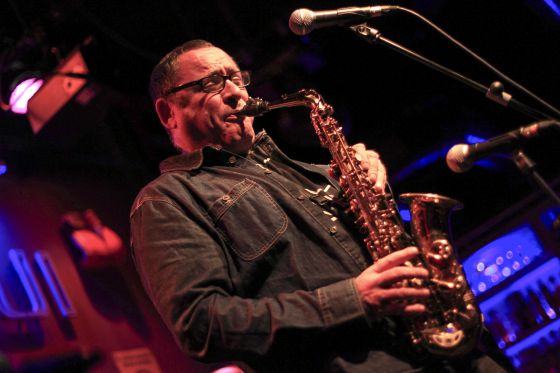 ampliar foto 11/01/2012
The following is a very rough Google Translation:
It is not normal for a writer who is here to discuss his book to end the night playing saxophone in a jazz club. But Gilad Atzmon is well, musician, philosophy professor on leave, shaker of consciences and ex-judío ex-israelí came to Madrid yesterday to present his new book, The Wandering Who and incidentally, to account for his condition with years of solvency jazzman: I am what I am thanks to jazz. His first performance of the two that has been scheduled last night at the Jazz Bogey: At 17 I bought a disc of Charlie Parker. When I saw his picture I could not believe. He firmly believed that all good is from the Jews.
Gilad is the perfect definition of torrential saxophonist in the purest tradition of bebop, you are like a club rat. It could hardly imagine anyone lecturing about the philosophy of Marx to an audience of students with acne: It's funny, because I was born in Israel in a familiar environment and anti-Marxist antigermánico. I was a proud Israeli, a patriot, I was willing to die for the cause.
Hard to believe that the person who occupies the stage of Bogey Jazz tonight participated in some of the fiercest fighting that took place during the war in Lebanon: I saw a lot of blood, many crimes, and I became less and less enthusiastic about the Jewish cause.
Bassist Yaron Stavi and drummer/teacher, Charles (Sir Charles) Gonzalez Joined Atzmon yesterday. Gonzalez was very happy to share the stage with a purebred bopper, "Gilad takes no prisoners. He shoots and one has to try to follow if you can."
Throughout his life, Atzmon has been repeatedly denounced for saying things that supposedly can not be said, however, "no one has ever told me that I was wrong in some of my views. In questioning identity Judaism what it is, probably a profession, not a religion."
He continues, "the Jewish political identity is the greatest risk to world peace. We see it now with the efforts of Israel to launch a war against Iran, most likely degenerate into a nuclear conflict. That is what the book about. Palestine is not in the Middle East, but here in Madrid."
Tomorrow back on his writing, which regularly turns in his books and in the blog that bears his signature.
But today, Gilad Atzmon will just be a jazz musician, an improviser. And a good one. Here there through papers, on stage, he, his friends, and a handful of classics: I Can not Get Started, Cherokee, In a sentimental mood that the writer-hot saxophonist.